Home
Getting Started
Welcome to the Office of Citizen Scholar Development, the fellowships office of the University of Virginia. We support current students (undergraduate, graduate, professional) and alumni. Our website, and this space in particular, will develop more over the course of the year, but in the meantime, make sure to take advantage of the Fellowships Series or contact us by email.
In the News
Luce Scholar Ibby Han will investigate how grassroots social movements shape the political landscape in Asia.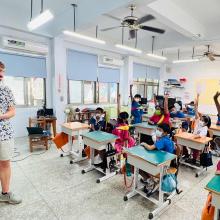 The U.S. Department of State has named the University of Virginia as a Fulbright U.S. Student Program Top Producing Institution for the 2022-23 academic year.
PHOTO: Benjamin Hazelton teaches English in an indigenous Paiwan community in Taimali, Taiwan, as part of the Fulbright program.