Home
Getting Started
Welcome to the Office of Citizen Scholar Development, the fellowships office of the University of Virginia. We support current students (undergraduate, graduate, professional) and alumni. Our website, and this space in particular, will develop more over the course of the year, but in the meantime, make sure to take advantage of the Fellowships Series or contact us by email.
In the News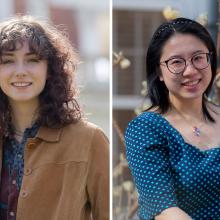 Two researchers, Theo O'Neill, left, and Zhiwen Xu, have received Goldwater Scholarships to further pursue their work.
Two graduating students, Abeba Amenshowa and Leigh Mante, are en route from the University of Virginia to diplomatic careers as Payne Fellows. The fellowship provides up to $104,000 in benefits over two years for graduate school, internships and professional development activities.