Home
Getting Started
Welcome to the Office of Citizen Scholar Development, the fellowships office of the University of Virginia. We support current students (undergraduate, graduate, professional) and alumni. Our website, and this space in particular, will develop more over the course of the fall, but in the meantime, make sure to take advantage of the Fellowships Series or contact us by email.
In the News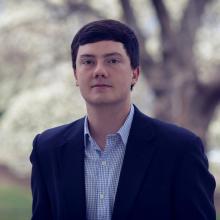 Fourth-year Austin Owen of Vestavia Hills, Alabama, has been named a James C. Gaither Junior Fellow at the Carnegie Endowment for International Peace.
Every morning, Emily Cox goes on a run in Port Meadow, a vast green expanse beside the River Thames in Oxford, England dotted with ponies, picturesque bridges and the towering ruins of Godstow Abbey.